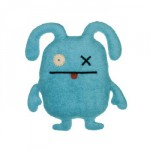 Which UglyDoll are you? Shy like Peaco? or hugsy like OX? I think I'm a bit like Jeero as there are always so many questions and I never know the answers!
+ Tell us more about YOU by tagging yourself with the UglyDoll that's most like you in the "Which UglyDoll are you?" album on our Facebook page (just one tag each please) and be in to win your UglyDoll self!
+ This giveaway covers Little UglyDolls only and we'll pick 3 winners at 8pm on Wed 27th of April 2011.
** UPDATE: Yay! We have winners! Mellissa McGrath (aka Cinko), Trish Thorburn (aka OX), and Lynley Mitchell (aka Peaco) were drawn out to win their UglyDoll selves in our giveaway! Thanks to everyone who entered… let's stay tuned for the next one 🙂