I'm moving house today! Back to the home town of New Plymouth, where I grew up. Lots of friends and relatives close by to keep Elliott company and there are even ponies over the back fence!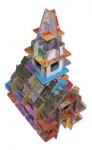 There is loads of packing do to, and of course all the fun of unpacking at the other end over the weekend… so I won't be able to process orders until Tuesday (12th April) – I'm sorry that things will be a bit slow if you order in the next few days 🙁
So until then I've taken 26% off our big TOTEM Building card sets – City set and Nature set: a new multi-award winning activity to keep the kids busy during the holidays, or rainy Autumn weekends!  The sets are now $53, down from $72.
And if you've recently grabbed yourself a $15 voucher, use that too and make them $38! How to get that voucher: sign up for our email newsletter!